Story Pirates | Lee Overtree, Co-Conspirator in Bringing Kids' Ideas to Life
#206 Story Pirates artistic director LEE OVERTREE is chatting with us about all things STORY PIRATES, including elementary school creative writing workshops in underserved communities, performances across the country, two Young Adult books, and an award-winning music album. The New York Times raves, "Whether you're a pirate, a parent, or an elementary school student, the results are theatrical treasure." It's also the crazy popular family friendly podcast we have playing in our car at all times, about a bunch of story pirates who take children's stories and turn them into sketch comedy or musical performances.
On the podcast, Lee shares: "It is profoundly moving to see what you can do to a child's life by applying your creativity to amplifying their voice." We discover the power of being a student's "co-conspirator" in the classroom, and we learn how Lee went from drumming in a Harlem kindergarten dance class to founding a community of like-minded artists who are changing the lives of children across the country... and making our family's preschool commute a heck of a lot more enjoyable.
Listen up! x Ellie Knaus
Subscribe + Listen on the Go: Apple Podcasts | Stitcher
Join our Instagram, Facebook, and private community.
Guest's Instagram: @storypirates
And here's a podcast with my fellow National Theater Institute alumna and mama Karisa Bruin.
Lee and Sabrina in the Story Pirates Office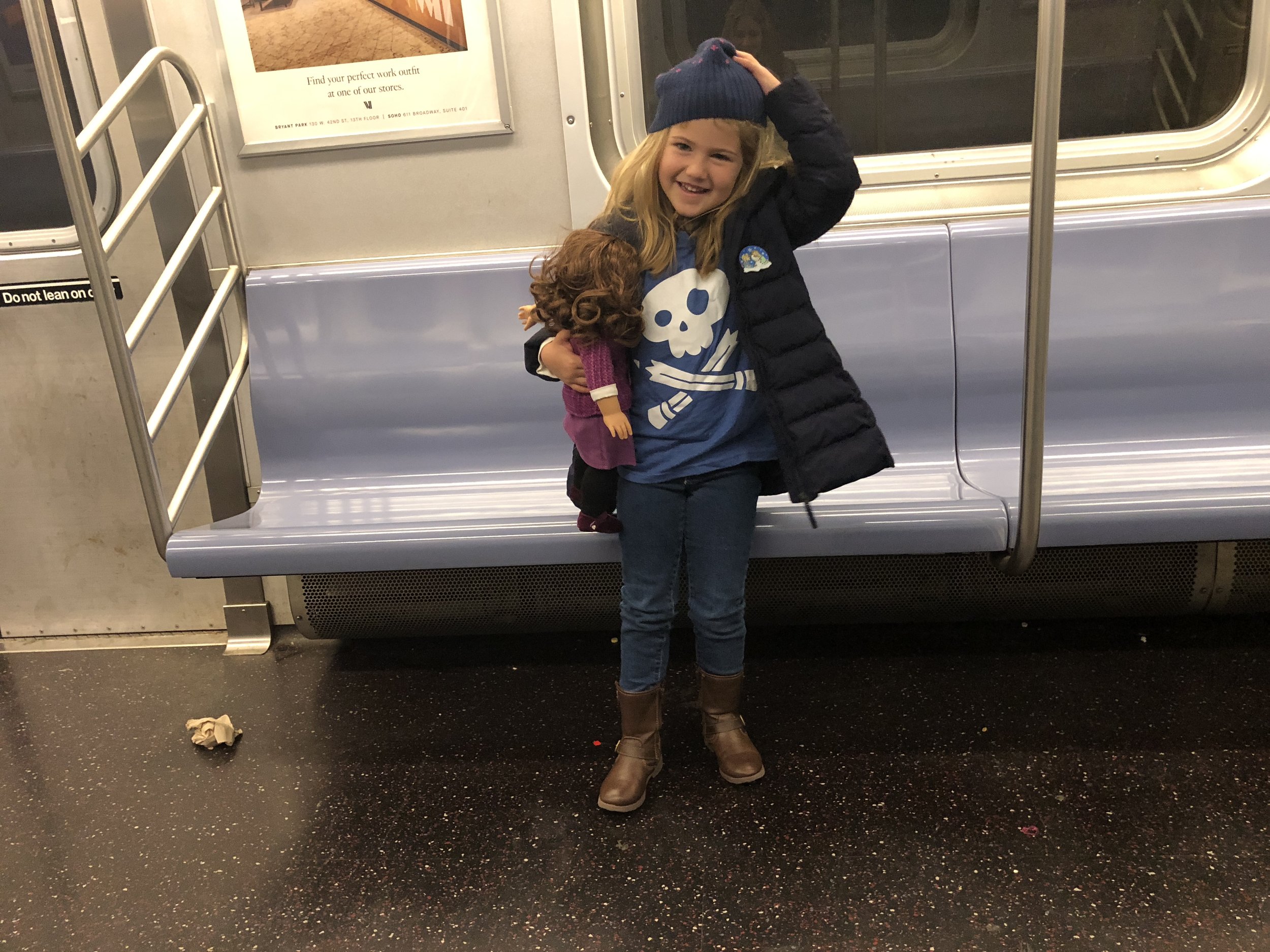 Sabrina's Ride Home from Story Pirates
Sabrina Befriends Chester at The Drama Bookshop aka The Story Pirates Headquarters
in the Media
Story Pirates Podcast Lesson Plan Companion.
Pirates Who Borrow Rather Than Steal - The New York Times
Story Pirates Changemakers was founded in 2004 to celebrate the words, ideas and stories of young people. By pairing world-class teachers with first-rate actors and comedians, they offer a variety of tools to make learning more engaging and effective. Get involved.
Ellie and Sabrina's Favorite Story Pirates song…
ABOUT LEE OVERTREE
Lee is co-founder and Artistic Director for the Story Pirates and is the producer and co-host of The Story Pirates Podcast. Along with co-writer Hunter Bell, he received a Drama Desk nomination for Outstanding Book of a Musical for Found at the Atlantic Theater Company. Lee has directed at the Williamstown Theater Festival, Center Theater Group, the Philadelphia Theatre Company, New York Stage & Film, the American Music Theater Project, Goodspeed, the Kennedy Center, the Geffen Playhouse, Berkshire Theater Group, the Mystic Aquarium, the American Museum of Natural History in New York City and the Natural History Museum of Los Angeles. He has taught at the Atlantic Acting School and currently serves on the faculty of the National Theater Institute at the Eugene O'Neill Center, where he teaches improvisation. Lee is an alumnus of Northwestern University and member of the Stage Directors and Choreographers union.